Capabilities
Star Label Products was founded in 1972. In the 44 years since our launch, we have worked hard to improve the label manufacturing process, develop an extraordinary customer service reputation, and build a versatile range of capabilities.
Today, with a state-of-the-art 37,000 square foot facility and 10 printing presses, we can offer a wide variety of printing capabilities.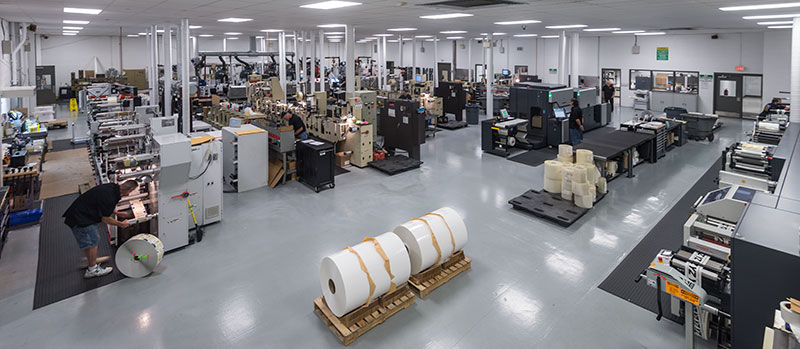 Flexography utilizes a flexible relief plate to transfer ink to printable substrates in a rotary process. Flexography can be used with virtually any substrate, from paper and metallic films to plastic and other types of synthetic materials.
We also specialize in UV flexography. UV flexography is identical to standard flexography, with the exception that it uses ultraviolet (UV) cured ink, as opposed to standard water-based ink, to expedite the curing process. We can print in up to 12 colors with our flexography presses.
Using a cutting edge HP Indigo WS6600 Digital Press, Star Label can digitally print prototypes, short runs, and medium-run jobs, with speed, quality, and precision.
Digital design and print software saves you the time and cost of manufacturing printing plates, which can be expensive for small runs, and allows for changes to be made easily. We can also offer a number of digital finishing services, such as hot foil stamping, cold foil, embossing, screen printing, critical color matching, and more.
Commonly used for pharmaceutical, nutraceutical, and cosmetic products, extended content labels provide a second layer of printable space on a label. When a product has small packaging, such as a pill bottle, an extended content label can double or triple the space for important ingredient, nutritional, and dosage/usage information to be printed.
Star Label manufactures extended content labels with a variety of materials.
Companies frequently distribute product samples in printed sample pouches. It's a winning marketing method — unless the pouches were printed poorly.
Star Label specializes in printed sample pouch printing. Using a variety of wear resistant inks, and specialty, flexible coatings to further protect them, we can print sample pouches for virtually every industry, from personal care, food and beverage, and supplements to cosmetics and cleaning products.
Protecting the environment through sustainability is important to us at Star Label, and we have been taking steps to make our processes, and by extension your labels, more environmentally friendly.
To reduce our energy consumption and carbon footprint, we upgraded our lighting system to 100% LED and built air circulation systems that use our machinery, rather than new energy, to heat our facility. We also work hard to reduce the scrap we produce.
Additional Capabilities
Stork UV Rotary Screen Printing up to 5 Colors
Foil Hot Stamping
Cold Foil Stamping
Embossing
Combination Printing
Sequential Numbering & Bar Coding
Adhesive Printing
Pattern Coated Adhesives
Specialty Indicator Inks
Custom Die Cutting
Laminating
Slitting
Sheeting
Fanfolding
Prototyping
Resealable Labels
Instant Redeemable Coupon (IRC) Labels
100% Defect Detection Label Inspection
To learn more about our capabilities, discuss your upcoming project and which capabilities it will require, or request a quote, contact Star Label Products today.