Capabilities
Star Label Products was founded in 1972. In the 50+ years since our launch, we have worked hard to improve the label manufacturing process, develop an extraordinary customer service reputation, and build a versatile range of capabilities.
Today, with a state-of-the-art 37,000 square foot facility and 10 printing presses, we can offer a wide variety of printing capabilities.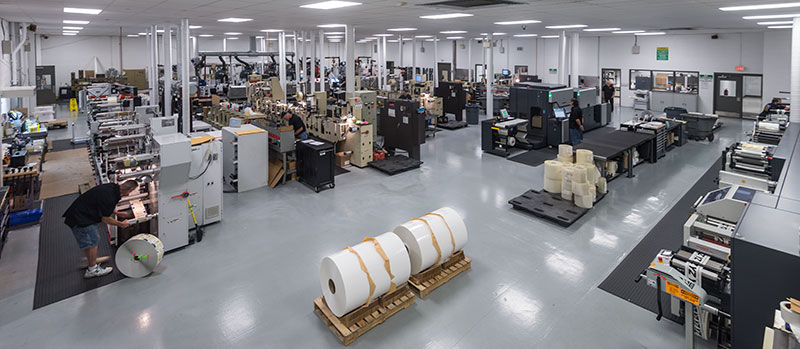 Flexography utilizes a flexible relief plate to transfer ink to printable substrates in a rotary process. Flexography can be used with virtually any substrate, from paper and metallic films to plastic and other types of synthetic materials.
We also specialize in UV flexography. UV flexography is identical to standard flexography, with the exception that it uses ultraviolet (UV) cured ink, as opposed to standard water-based ink, to expedite the curing process. We can print in up to 12 colors with our flexography presses.
Digital label printing is ideal for a number of applications, allowing for specialized, small-run jobs at unsurpassed levels of quality. It rivals the finest offset or UV flexo printed products and can be supplied in any shape, type of paper, or film substrate.
Commonly used for pharmaceutical, nutraceutical, and cosmetic products, extended content labels provide a second layer of printable space on a label. When a product has small packaging, such as a pill bottle, an extended content label can double or triple the space for important ingredient, nutritional, and dosage/usage information to be printed.
Star Label manufactures extended content labels with a variety of materials.
At Star Label Products, labels are not the only thing we manufacture. We also manufacture custom name plates. Our name plates are crafted of top quality durable materials and are available in a wide range of dimensions.
Star Label Products aims to provide brands with the latest in embellishment technology so that their products have the striking textural and visual finishes that they deserve.
Product labels with a tactile or specialty finish stand out from the rest and will practically beg consumers to pick the product up for consideration.
Tags offer a dimension of strength and application that a pressure sensitive label does not. If a printed tag is the right choice for your product, Star Label Products will provide the solution.
Star Label Products is one of a few label manufacturers to have market share in the Flexible Packaging arena. We provide customers with "Co-Packer Ready" printed flexible packaging roll stock. This means that we will do all of the printing in-house and then rely on a co-packer to form & fill the finished pieces of packaging. We have a broad directory of co-packers that we can recommend and put you in touch with.
When a label requires specific information that is different from each and every label in the roll, the application of variable information printing is the answer. Such information can include a "best by" date or consecutive alphanumerical coding.
Protecting the environment through sustainability is important to us at Star Label, and we have been taking steps to make our processes, and by extension your labels, more environmentally friendly.
To reduce our energy consumption and carbon footprint, we upgraded our lighting system to 100% LED and built air circulation systems that use our machinery, rather than new energy, to heat our facility. We also work hard to reduce the scrap we produce.
Additional Capabilities
Stork UV Rotary Screen Printing up to 5 Colors
Foil Hot Stamping
Cold Foil Stamping
Embossing
Combination Printing
Sequential Numbering & Bar Coding
Adhesive Printing
Pattern Coated Adhesives
Specialty Indicator Inks
Custom Die Cutting
Laminating
Slitting
Sheeting
Fanfolding
Prototyping
Resealable Labels
Instant Redeemable Coupon (IRC) Labels
100% Defect Detection Label Inspection
To learn more about our capabilities, discuss your upcoming project and which capabilities it will require, or request a quote, contact Star Label Products today.